"Whoever ends up winning the election in November, one thing seems certain: For the first time in history, Jews will be in the president's inner family circle."
Hillary's highest campaign contributor in past was infamous Larry Silverstein, who knew before hand about 9/11, redesigned WTC 7 in advance, then magically was able to start rebuilding after it was "weakened" and fell exactly into its footprint in 10 seconds at 5:20 PM on 9/11.  He pocketed $5.2 billion after expenses from the insurance payout. Silverstein was director of United Jewish Appeal and is personal friends with Benjamin Netanyahu. This is the man who, because of his contributions, has ready access to the Clintons.
Trump has pledged allegiance to Israel, as had his father.
Both Hillary Clinton and Donald Trump are linked to porn ring Jeffrey Epstein.
Not only are both son's in law Jewish from families that are dishonest crooks (see below), but the two daughters, Chelsea Clinton and Ivanka Trump, are long time good friends.
Both Hillary and Donald have given speeches to AIPAC, which controls the United States Congress.
This will be another mock election where people will argue and rest hopes, when in fact, just like every election since Kennedy, it doesn't matter who wins.
Because Hillary is a murderer, a thief, a liar, and has attended satanic rituals her entire life, I will vote for Trump. I will hope the Clintons, both of them, and probably Chelsea also, will be put in prison.  – Ray Songtree

Trump v
s. Clinton: Battle of the Jewish sons-in-law
By Uriel Heilman   May 20, 2016 2:08pm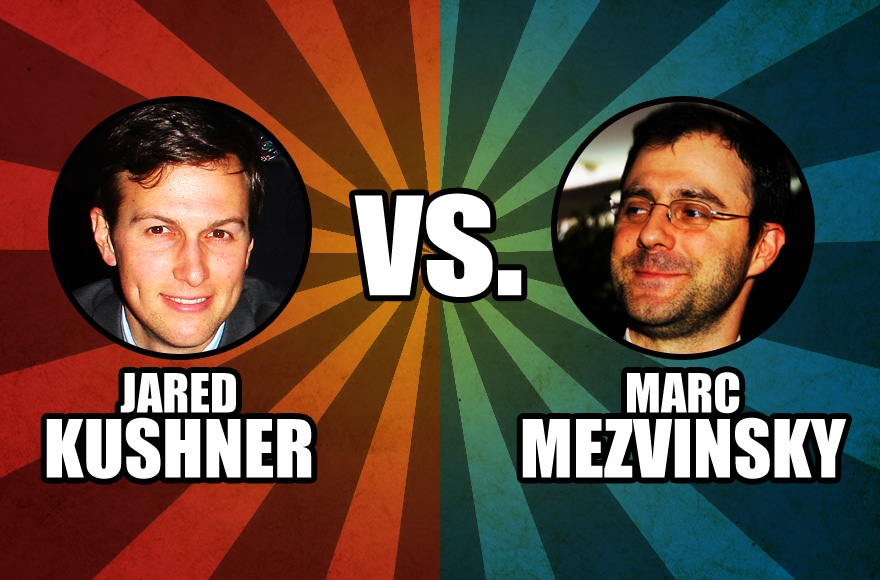 (JTA) – Somebody had better put a mezuzah on the Lincoln Bedroom.
Whoever ends up winning the election in November, one thing seems certain: For the first time in history, Jews will be in the president's inner family circle.
Both Donald Trump and Hillary Clinton have Jewish sons-in-law, and of course Bernie Sanders — in the unlikely event he makes it to the White House — is Jewish himself (though his daughter-in-law is not).
With the head-to-head contest between the two likely nominees heating up, we decided to take a closer look at Jared Kushner, who is married to Ivanka Trump, and Marc Mezvinsky, who is married to Chelsea Clinton.
Age
Kushner: 35
Mezvinsky: 38
Occupation
Kushner: CEO of family real estate firm Kushner Properties and owner-publisher of The New York Observer.
Mezvinsky: Investment banker and co-founder of hedge fund Eaglevale Partners.
Education
Kushner: High school at Frisch, a modern Orthodox yeshiva in Paramus, New Jersey; B.A. from Harvard (sociology); J.D. and MBA from New York University.
Mezvinsky: High school at Friends Central in the Philadelphia suburb of Wynnewood; B.A. from Stanford (religious studies and philosophy); M.A. in international relations from the University of Oxford, England. [But he becomes an investment banker?]
Family
Kushner: Grew up in Livingston, New Jersey. Father: Charles Kushner ran a real estate empire until his imprisonment and is involved in various Jewish philanthropic [read – tax shelter and social engineering] endeavors. Mother: Seryl Kushner is involved in the family's business and philanthropy.  Has three siblings.
Mezvinsky: Grew up in Philadelphia. Both parents served stints in Congress as Democrats. Father: Edward Mezvinsky served two terms from Iowa in the 1970s (and decades later went to prison). Mother: Marjorie Margolies-Mezvinsky, a former TV journalist, served a single term from Pennsylvania in the mid-1990s. Parents are now divorced. Has one full brother, four half-siblings and five adopted siblings.
Professional track record
Kushner: Often described as a wunderkind, [< link to $60 M penthouse for retards.] Jared Kushner has doubled the assets of his family's real estate empire since taking over as CEO in 2008. [He is successful at unsustainable BS] In 2014, Kushner Properties did $2 billion in transactions.
Mezvinsky: Worked at Goldman Sachs [Rothschild] for eight years before launching Eaglevale in 2011, which now has $326 million under management. But the hedge fund was down 3.6 percent in 2014, largely due to Mezvinsky's bad bets on Greek debt.
Campaign involvement
Kushner: Helped draft Donald Trump's AIPAC speech, advises the presumptive Republican nominee for president on Israel issues and is involved in assembling his White House transition team. Kushner's newspaper endorsed Trump for president.
Mezvinsky: Appears at non-political events with the Clintons, but has no known involvement with Hillary's campaign.
Jewish practice
Kushner: Belongs to an Orthodox synagogue, Manhattan's Kehilath Jeshurun, observes Shabbat and kosher restrictions, and is raising children as Jews.
Mezvinsky: Grew up in a Conservative synagogue, has been seen in shul on occasion with wife Chelsea Clinton and is raising daughter with both Jewish and Methodist traditions.
Wife's relationship to Judaism
Kushner: Ivanka Trump underwent Orthodox conversion after studying with an Orthodox rabbi, Haskel Lookstein. She now observes Shabbat and keeps a kosher home. "We're pretty observant," she has said.
Mezvinsky: Chelsea Clinton is still a practicing Methodist. The couple married in an interfaith ceremony featuring a huppah and co-officiated by Rabbi James Ponet of Yale University and Methodist Rev. William Shillady.
Why Dad went to prison
Kushner: Hired a prostitute to seduce his brother-in-law, secretly recorded the encounter and sent the tape to his sister as part of a blackmail scheme. He served 16 months after guilty pleas to 18 counts of tax evasion, witness tampering and making illegal campaign donations.
Mezvinsky: Bilked friends, family and strangers out of some $10 million in bogus schemes disguised as investments in Africa and oil development. He served five years after pleading guilty to 31 counts of felony fraud, including bank fraud, mail fraud and wire fraud.
Residence
Kushner: Stylish 10-room apartment on Manhattan's Upper East Side at – where else? – Trump Park Avenue.
Mezvinsky: A sleek apartment in Manhattan's Flatiron district, on 26th Street, that the couple bought in 2013 for $10.5 million.
Children
Kushner: Theodore James, 2 months; Joseph Frederick, 2; Arabella Rose, 4.
Mezvinsky: Daughter Charlotte, 1, and one on the way.
Save
Save
Save