[Update… July 29, 2017
World's first sex robot brothel 'in talks' to make 'revolutionary' business GLOBAL – link
]
Scroll down. This is what Zuckerberg is bringing world with virtual headset tech. It is unknown whether he has invested in the dolls. Get ready to gag. Lets see, will girls try to dress like the virtual images, or will women finally start being real again and boycott image all together?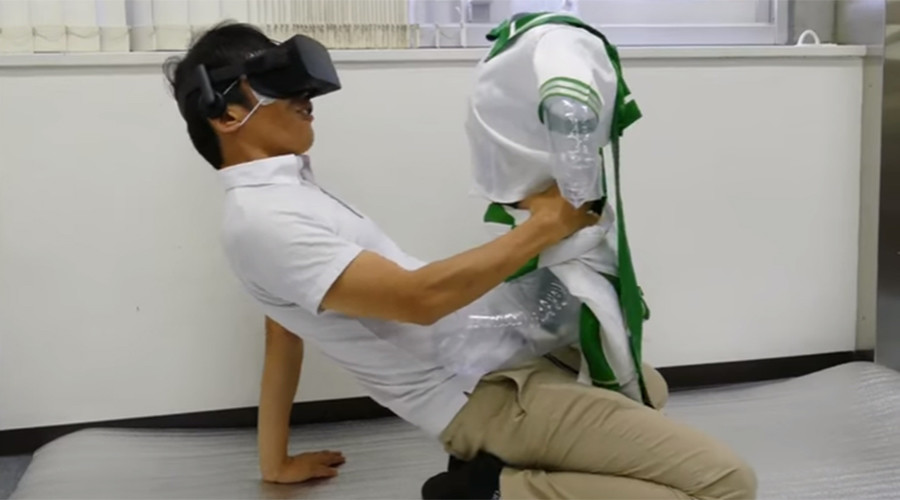 Facebook CEO Mark Zuckerberg laid out his vision for the Oculus Rift virtual reality headset in a Facebook post on Thursday that has racked up 70,081 likes and counting.
Mark Zuckerberg: Here's Why I Just Spent $2 Billion On A Virtual-Reality Company. … Oculus VR makes the Oculus Rift, a headset for virtual-reality gaming.
Facebook's Oculus Rift virtual reality headset, which ships to consumers for the first time in a few weeks, may have been conceived of by gaming enthusiasts.
Oculus Rift is off to a good start. Facebook CEO Mark Zuckerberg said Tuesday that response to the high-profile new virtual reality headset has been …
A virtual reality porn festival in Japan was shut down after too many simulated sex enthusiasts came… um, make that… arrived early.
It has emerged that the country's first-ever event of its kind, Adult VR Fest 01, was turned off early last month because of overcrowding at the Akihabara district venue.
The festival offered visitors a peek at the latest in VR sex tech including a headset which, with the help of an inflatable doll, replicated sex with a women.
A translated version of events which appeared on VRTalk described how pent-up porn fans were turned away as a "riot" threatened to erupt outside the festival, before attendees got a chance to penetrate the venue.
"The event didn't start until 2:00 p.m., so I went there in high spirits an hour before then, but the city was already overflowing with people," local blogger Eizo0000 reported.
READ MORE: Virtual reality sex suit looks as disturbing as it sounds (VIDEOS)
"While waiting for my friends, I couldn't help but think that if they couldn't control the mass of people, a riot or something similar could happen," wrote Eizo0000. "The 20 lucky guys closest to the building were let in by staff."
A bizarre video, purportedly from inside the event, gives some insight into the weird world of VR porn.
https://www.rt.com/viral/349503-vr-porn-event-japan/?utm_source=browser&utm_medium=aplication_chrome&utm_campaign=chrome
Sex robot cafe aims to offer Londoners fellatio with their morning coffee
https://www.rt.com/uk/361200-robot-sex-cafe-london/?utm_source=browser&utm_medium=aplication_chrome&utm_campaign=chrome
An entrepreneur who hopes to open London's first 'fellatio cafe' has revealed his staff will be made up entirely of sex robots.
Businessman Bradley Charvet, who plans to open the 'blow job cafe' in Paddington, claims the sex-bots will be programmable to a person's needs and will soon be seen as "totally normal."
A 15-minute oral sex session with an espresso will set punters back just £60 (US$78). Hungry patrons will have to pay extra for a pastry.
The coffee shop is due to open after Charvet launches his first cafe in Geneva, Switzerland, later this year.
Charvet made headlines earlier this year when he announced he would launch a 'fellatio cafe' modeled on similar businesses in Thailand, such as Dr. BJ's Salon in Bangkok.
However, the announcement was met with skepticism by many, who cited Britain's stringent anti-prostitution laws as a reason why the business would be unlikely to take off.
Now Charvet claims the oral sex will be performed by 'erotic cyborgs.'
"Sex robots will always be pleasing and could even become better at technique because they would be programmable to a person's need," he told the Daily Star Online.
"They will improve the sex service. It's totally normal to see a new way of using robots and others sex toys to have pleasure."
Charvet believes the cafe will become a hub of social activity, where friends meet to chat, drink coffee and casually enjoy robotic sex acts.
"The bar is the place to meet people, to extend your network and the way to start the morning.
"What could be better than meet your friends around a cafe and to enjoy a nice blow job from a sex robot?"
With opening hours of 6am to 11pm, blow job cafes could soon replace the pub as Britain's favorite socializing spot.
Charvet believes a trip to the cafe is the best way to start the day.
"Everyone is drinking coffee daily," he said.
"And nothing is better to start a working day than engaging in sexual action, US research has found."
"People like to chat before they make love. It makes sense the robots will speak and tease men's desire," he added.
The Paddington cafe will be home to eight robots dressed in a variety of costumes.
"Uniforms are going to be worn: nurse, police, student and secretary."
If the London cafe is a success, Charvet plans to open a 24/7 shop in the heart of Manchester.
Save
Save